Conventional Mortgages
Our most popular type of loan, a Fixed-Rate mortgage is a great solution because it's predictable and stable.
Common uses include purchasing and refinancing a home
Allows for precise budgeting
Interest rate remains the same for the life of the loan
Serviced in-house by people you know
Loan can be seen in both Online and on our Mobile Banking App

Balloon Mortgages
Certain situations don't fit the cookie-cutter mold of the secondary market; a balloon mortgage can be a great alternative!
Commonly used for bare land acquisition, unique property purchases and properties with a blend of residential and commercial purposes
5-7 year interest rate lock
Payment amount may increase or decrease, based on the interest rate
Terms can be customized to fit your preferences
Generally faster turnaround times

HELOC's
Home Equity Lines-of-Credit (HELOC's) take advantage of the equity in your home. Use this line-of-credit to update your home... and more!
Commonly used for updates to your home, a HELOC is a great tool to have in your back pocket for updates now and in the future
Approvals based on the equity in your home and your loan-to-debt ratio
The funds can be used for anything – home remodel, debt consolidation or a vehicle purchase
---

Construction Loans
Building new? Adding on? Use this type of loan to fund your project.
Interest-only payments on principle drawn until completion
Loan draws are handled by FNB Osakis (or a title company, whichever you prefer)
Loan amounts are determined by the cost of the build and the projected value of the property
Loans are typically refinanced to either convention or balloon mortgages after completion

Construction-to-Perm Loans
This loan is the all-in-one solution for purchasing a lot and building a home!
Interest-only payments until completion
Eliminates the need for additional appraisals and closing costs by having a single closing loan
2-Phase loan – initial phase is typically 6 months to cover the build/remodel of the property, and the loan automatically rolls into the 2nd phase, which include regular amortizing payments

Refinance
Refinancing your existing mortgage could be very worthwhile! If you're considering refinancing, you may benefit from one (or more) of the following:
Better interest rate
Lower monthly payments
Stabilized costs
Shorten loan term
Combine mortgages
Consolidate other debt
---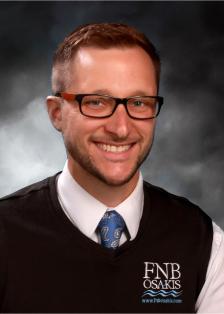 Meet Our Mortgage Pro!
Ryan Peterson
Assistant Vice President & Residential Lender (NMLS #1069585)
(320) 335-5803 | rbpeterson@fnbosakis.net
Alexandria Native | Bicycle Enthusiast | Neat Freak | Father | Adventure Seeker

I love being a part of and helping customers cross financial milestones.

"Sometimes you will never know the value of a moment until it becomes a memory." - Dr. Seuss

*Programs listed subject to change and availability